KJ Howe's Bio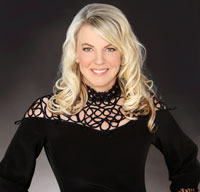 Born in Toronto, Canada, KJ enjoyed a nomadic lifestyle during her early years, living in Africa, the Middle East, Europe, and the Caribbean, which gave her an insider's view into many different cultures. While abroad, she read every book she could find, which triggered in her a desire to create her own stories.
She attended Salzburg International Preparatory School, Neuchâtel Junior College, and Albert College before earning a Specialists Degree in Business from the University of Toronto. KJ found success in the corporate world, but her passion for travel, adventure, and stories drew her back to school where she earned a Masters in Writing Popular Fiction from Seton Hill University. She is a Thriller and Barry Award nominee, and she has won several writing awards, including three Daphne du Maurier Awards for Excellent in Mystery and Suspense.
While honing her fiction skills, KJ worked as a medical, health, and fitness writer. She then became involved with the International Thriller Writers as the Executive Director of ThrillerFest, the organization's annual conference held every July in New York City.
In preparation for writing THE FREEDOM BROKER series, which focuses on elite kidnap negotiator Thea Paris, KJ spent extensive time researching the dark world of kidnapping. She has interviewed former hostages, negotiators, hostage reintegration experts, special forces operatives, and K&R insurance executives.
KJ is an avid tennis player, cyclist, and swimmer. Travel and adventure still rank high on her priority list. She has had the pleasure of riding racing camels in Jordan, surfing in Hawaii, ziplining in the Costa Rican jungle, diving alongside Great White Sharks in South Africa, studying modern combat in the Arizona desert, and working with elephants in Botswana. Home is in Toronto, Canada, but she is often missing in action.

---
Thea Paris
Born in New York, Thea Paris globetrotted with her oil billionaire father Christos and older brother Nikos, soaking in the different cultures and languages from the numerous countries they lived in.  Sadly, Thea lost her mother in a sailing accident at Martha's Vineyard when she was quite young, so she never had a female role model.  She developed a passion for racing cars, motorcycling, and scuba diving—a virtual adrenaline junkie.  But tragedy struck the Paris family again when twelve-year-old Nikos was abducted in Africa.  Even though her brother returned home nine months later, he was never the same.  Deeply affected by the abduction, Thea devoted her time and energy to becoming a kidnap negotiator, determined to help families who had also been victimized.
To prepare for the demands of negotiating with criminals in foreign countries, Thea completed a Master's Degree in International Relations at Georgetown and learned five languages.  After graduating, she secured a position with the Defense Intelligence Agency for three years.  Finally, she trained under two mentors at a London-based elite kidnapping response firm called Quantum Security International.  Her bag is always packed and by the door, ready to support a hostage's family and bring their loved one home.
Thea suffers from Type 1 Diabetes.  Since insulin isn't readily available in some of the hotspots she works in, she must prepare carefully for her travels.  Life with T1 diabetes isn't easy, but she refuses to let the condition get in the way of her calling.  
Thea's love life is a bit of a disaster.  Men tend to lose interest when their girlfriend disappears for weeks at a time.  Instead, she cuddles up with her Rhodesian Ridgeback Aegis who she shares with her father.